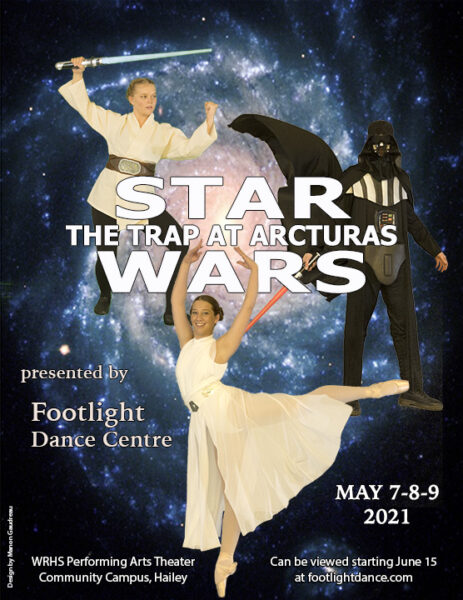 STAR WARS – PERFORMANCE MAY 7-8-9 performance links: 
Friday cast link: https://vimeo.com/556300722
Saturday cast link: https://vimeo.com/559204021
Sunday cast link: https://vimeo.com/561991253
Footlight produces two major performances each year. Company School Enrichment Performances in Blaine County Schools, 2021. "Paths to NEW Connections".  Annual School Performance "STAR WARS – Trap at Arcturas", was filmed May 7-8-9, 2021.

The annual May Performance involves the entire school enrollment with the exception of the Creative 4-5 yrs. students. Each year a full-length production is staged.
Other performing opportunities are available on a project basis. Community events occasionally provide dance opportunities associated with galleries, holidays or events. Students are encouraged to participate in school and community musicals where they can gain further performing experience.
PERFORMANCE INFORMATION
1) Participating in the annual school performance is optional. If your student does not choose to participate they can still join a class for the session. A fee will be required for participation which covers their costume & for 2021 a fee for the filming, since no audience will be allowed due to covid. The costumes belong to you after the performance. The fee and performance registration must be received by January if performing in the May show. No student can receive their costume prior to the performance without all class fees being paid in full.
2) If your child participates in the annual performance, they MUST attend all classes 6-8 weeks prior to the performance, unless arrangements are made with the Director or in case of illness. Any vacation plans should be reported. No one will be allowed to miss the last 2 weeks of classes prior to the performance.
We reserve the right to restrict participation or ask a student not participate if classes have been missed….this is only fair to the children who have been to class each week and know their parts.
3) Holiday performances, Junior and Senior Company performances have a separate billing for costumes. Each student can decide if they want to participate in these extra performances or only take class.